Instagram take over by MoSaIC-musicians
In June  2020  the Belgian MoSaIC musicians and artists from all over the world were carrying out Instagram Takeovers of the MoSaIC project's official Instagram account. It was  a way to get insight into each musician or artist's personality, but also a direct presentation of what is most important to him or her in the unique Covid-19 times, which we find ourselves.
Everything from thoughts about music to personal photos from everyday life in order to highlight what unites us when live music concerts are causing problems will make their appearances during the upcoming months from summer and onwards. The artists of our partner countries Romania, Denmark and Italy will follow in the coming months. Stay updated via Instagram mosaic_creative_europe or Facebook MoSaIC - Music for Sound Integration in the Creative Sector.
Moufadhel Adhoum - 8 June 2020
Moufadhel is an oud player and composer, born in Tunisia. He's been living in Belgium since 1989. He started learning the oud at the age of 12 in Tunisia with his teacher Mr Abderrahman El Mehdi, a great master of ud and traditional Tunisian music.
My mother encouraged me to learn this instrument and thanks to her music turned to be the reason of my life!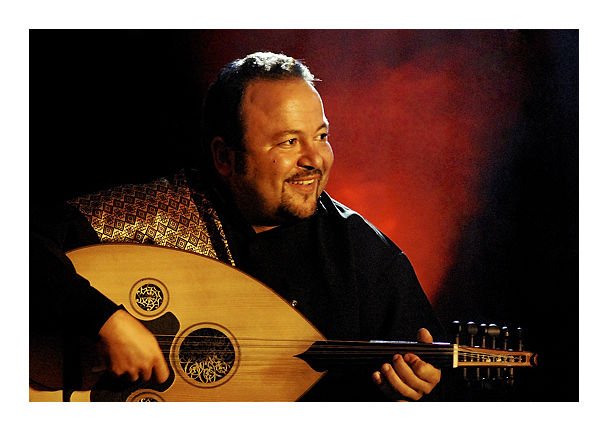 © Jean-Luc Goffinet
I studied Arabic music in the Tunisian conservatory of Arabic classical and traditional Tunisian music. I'm lucky to be involved in different musical projects with a lot of artists from all over the world and have an own quartet: Hijaz.
This photo is one of the best ever taken in my musical career, I love it a lot because it was taken by one of my students, Jean-Luc Goffinet, who is also a photographer with a special eye for colors and emotions. He was able to capture the hope and joy that emerge from this smile, which I would like to share with you in these difficult times today. Because there is hope: although still without audience, cultural events in Belgium are allowed again, as from today!"
Vida Razavi - 12 June 2020
"My name is Vida Razavi, and I'm an amateur musician from Iran and I play Dotaar. I am a project manager in socio-cultural sector and my passion is social justice and deliberative democracy. As part of my job, I work directly and indirectly with asylum seekers and refugees in Belgium. As an refugee myself, every day I get reminded of the destructive consequences of war, conflict and violence on the lives of people sometimes for generations to come.

The fact that there is so much conflict in some regions in the world, has given rise to another challenge in the other countries where human rights are highly valued and practiced. As a result of this, these societies have become more and more divers. Unfortunately the challenges do not end once a refugee or asylum seeker is out of his country. This diversity has pushed us outside of our comfort zone. Right there, where we feel uncomfortable with "the other". When things are done or spoken differently, the tension arises. I am convinced that we as human race are not yet fully skilled to get along with diversity. But luckily this skill can be learned. 
Today I want to share this photo with you. A beautiful mosaic piece which in its pure simplicity kindles a much deeper passion for beauty and harmony.
What fascinates me the most, is that these small pieces individually are just shapeless imperfect chunks of tiles but as a whole they form such an eye catching piece of work. That reminds me of how zooming out on our difference gives us this extraordinary opportunity to form a beautiful united context of our humanity in harmony."
Natalia Bachtina - 16 June 2020
My name is Natalia Bachtina. I am the next MoSaIC artist who is taking over for today. I was born in Russia, but I live in Belgium for almost 21 years. I am an amateur singer, next to my daily job as a customer service coordinator. I have discovered singing when I was 26 years old, but now I can't imagine my life without it. When I was asked to join the MoSaIC project I agreed immediately.

Today I want to share with you a picture of me learning a new piece. It's a very beautiful aria and a very difficult one. I have a long way to go, but it's worth it.
I aim to encourage everyone to dare to do things out of the comfort zone. This is the only way to grow and explore your talents."
Zeno Popescu - 17 June 2020
Zeno is a tenor, born in Romania. He is also the charismatic conductor of Singing Molenbeek, a project in which he starts up school choirs in several primary schools in Molenbeek (Brussels) with children between 5 and 12 from different social and cultural backgrounds. The children get professional support of highly skilled coaches.
"My life is music. It could save the world!'"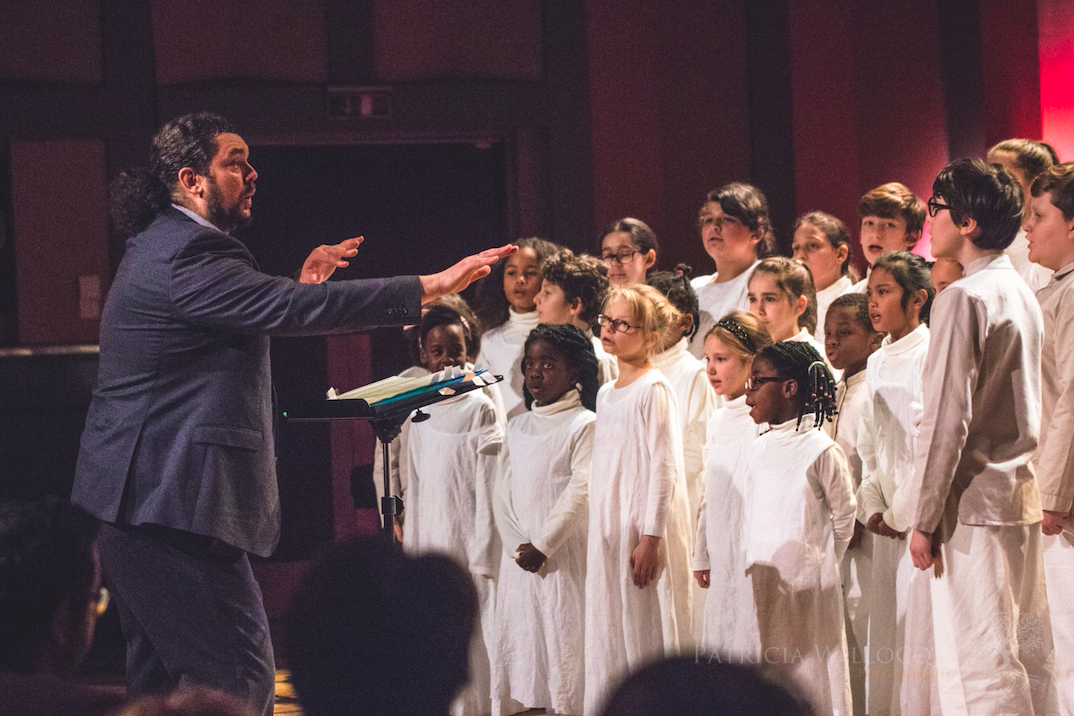 Mirjam de Wit - 18 June 2020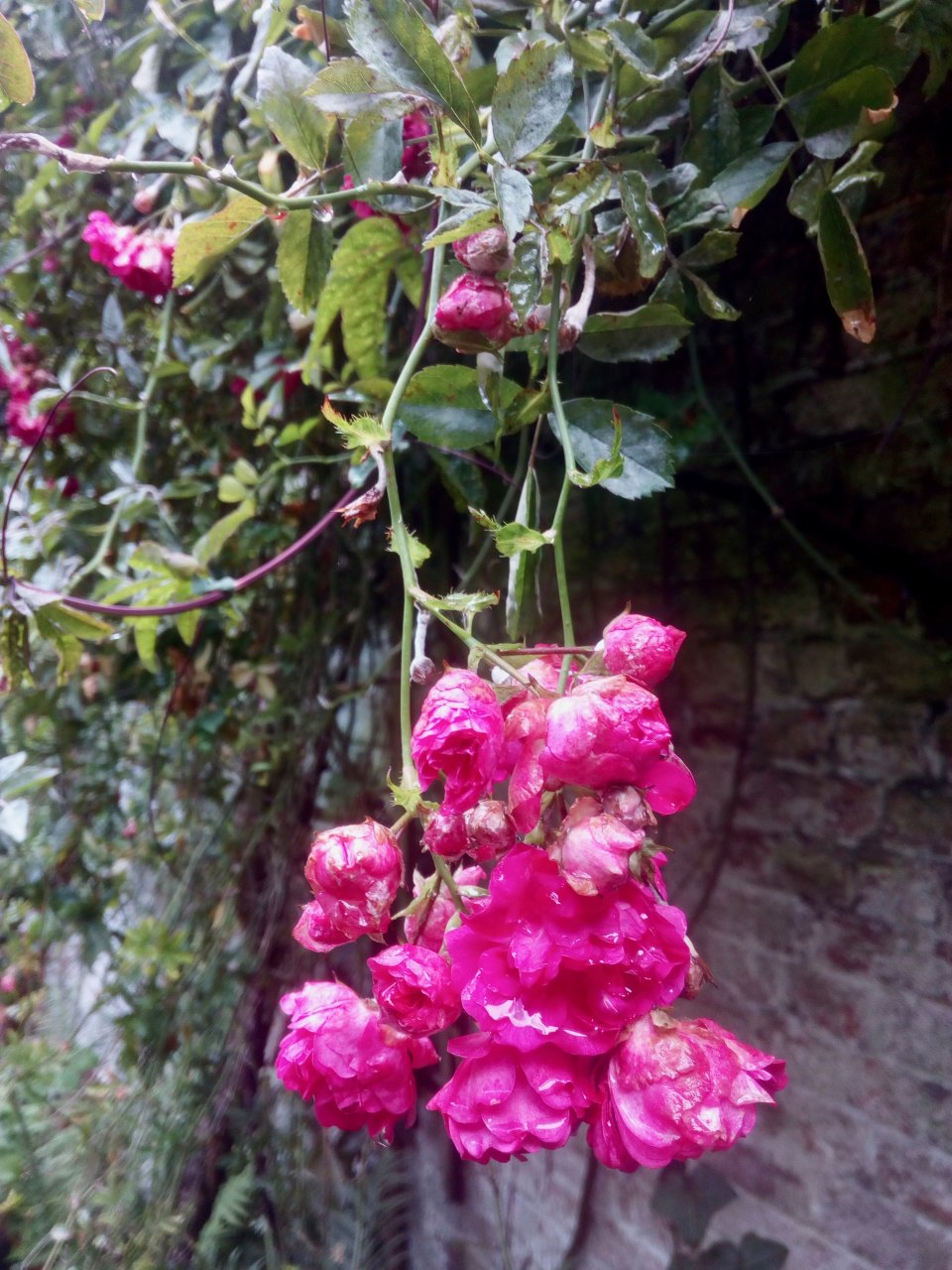 Mirjam is from the Netherlands and has been living in Belgium since her music studies. "I am a music pedagogue currently taking time to recover and reflect, making changes and looking forward to see others making some changes as well!" 
This is the time to recover and reflect.
Anja Kowalski - 21 June 2020
"Hi, I'm a singer, musician and I'm writing music, mostly songs. I also teach at a music academy. Although I was born in Brussels and I have a Polish family name, I have the German nationality, because my parents were both German. A theme that returns a lot back in my songs is the quest for belonging. I am posting here a picture (made by the photographer Silvano Magnone) which became also the cover of the CD, I recorded with my group 'Wolke' (clouds in German).
For me, the photo symbolizes that quest: a woman walking on a kind of no man's land, tarrying a house along with her on a long string. I think it's at the same time a very personal and a universal theme.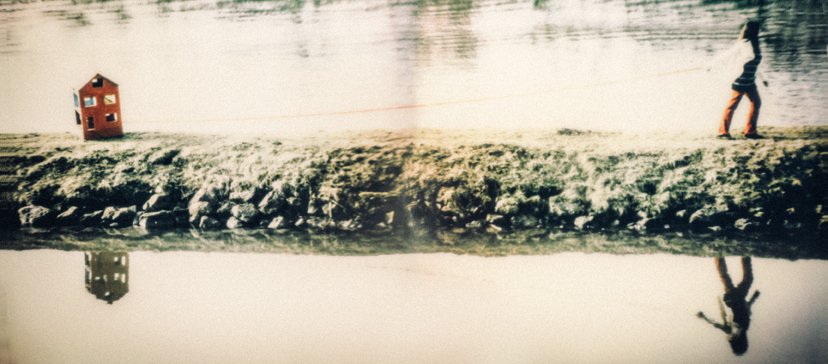 We live in a society where the idea of belonging changed, where people give up their homes and move, either forced or deliberately, where for some people borders open up while for others they get more and more impenetrable. We live in a world of "more-faster -better". It's not easy to feel rooted, also because we are expected to be in perpetual movement.
In this period of confinement, which became a period of slowing down, I tasted again how it feels when home becomes first of all a sensation in the belly, a kind of being connected to myself. Taking care of myself and of my very close and dear ones is what creates a feeling of belonging.
Being a musician in our society means to me also, to step out from time to time of this high speed train we are sitting on, to take a break, a moment to listen to our inner silence and our inner music before starting again to play and sing it out loud."
Greet Wielemans - 22 June 2020
 "Since 2002, I run natural voice singing workshops, and I lead inclusive singing projects with special groups as prisoners, women in safe houses, refugees… And I sing.
Singing is like travelling to me, exploring humanity. It's a delight to taste songs from all over the world and to use the voice in unexpected ways.
I learned a lot from cross-cultural means of integrating sound and music in rituals and communities.
I enjoy the way songs and sounds nurture my life and liberate my heart. I believe that many difficulties we encounter today on this planet have to do with a lack of listening to the whispers of the silence, to the frequencies of the heart. When we can serve this Earth from the heart, the Earth will serve us in a more sound and abundant way.
These last years, I dedicated myself more and more to projects based on co-creation with people from all colors, gender, language etc… We all love music, and this love shines through our frequencies. And in this way, I believe we can create the vibes for this better world we're waiting for."
Emre Gültekin - 24 june 2020
"I discovered music thanks to my father Lütfü Gültekin who taught me to play the saz, a long-necked lute capable of generating the most subtle harmonies. Elusive and complex, crossing cultural boundaries, the instrument was widely adopted throughout the Middle East – ranging even to Siberia – in various forms, but it was in Anatolian music that it reached its artistic apogee and greatest expression, with great masters such as Talip Ozkan and Mustafa Karaçeper, who also directly instructed Emre. His father Lütfü Gültekin's compositions play an important role in the Turkish folk song repertoire.
On the picture you can discover my lovely instrument. Music is as breathing to me."
Music is as breathing to me.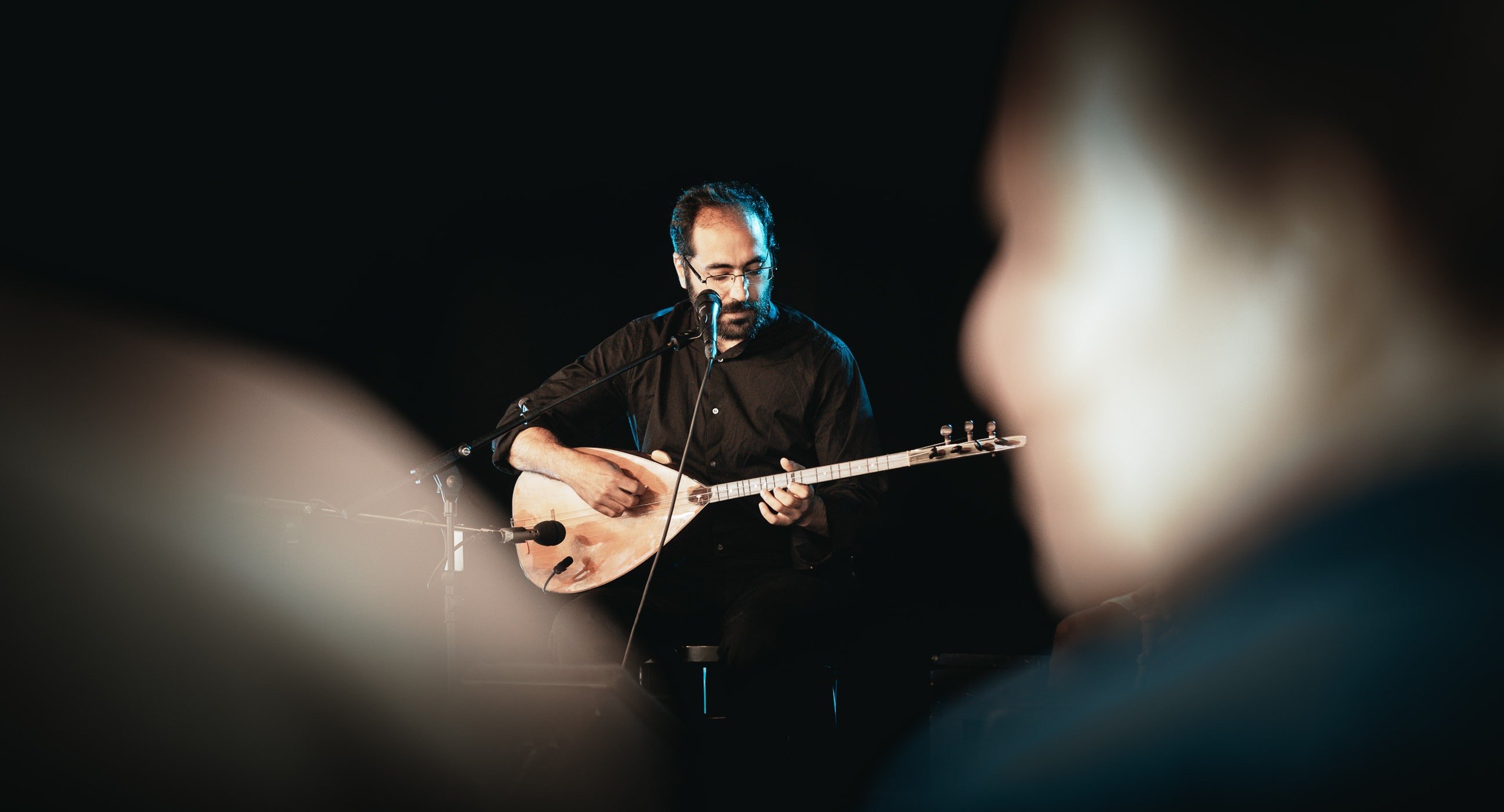 Aurélie Nyirabikali Lierman - 26 June
"I am a composer, a radio artist and a vocal artist. And I am the artistic coordinator at Koor&Stem, the Belgian partner for MoSaIC. In my solo work I focus on telling stories through music, sound and silence. I love diving into oral histories and exploring knowledge dating back to Pre-Colonial Times and African Antiquity.  
Sharing stories in general - and the act of listening in particular - always give me hope. So does the color YELLOW !
Hence this picture: taken in a period the score for Corona vs. the World was clearly 1-0. Back then the global COVID-19 pandemic had just spoiled all the bold plans we had for some really exciting MoSaIC concerts in Belgium and Italy. But all MoSaIC members, including our partners in Italy (!), showed great resilience in the midst of the storm and decided unanimously to just be patient and postpone it all.
Ever since the kick-off of MoSaIC I feel nothing but gratitude for getting the chance to collaborate with all these inspiring MoSaIC artists. And the goals of MoSaIC feel especially heartwarming in times where the daily news is virtually bombing us with the mortality rate of corona on one hand, and the deadly racist police brutality on the other hand. The now online meetings with MoSaIC each time work as a powerful antidote for these trying times.
I hereby also want to show gratitude and pay my R.E.S.P.E.C.T. to the world for responding as a global community, in solidarity, against systemic racism. 
The protests and flared up public and political debates are giving me hope that the combination of diversity ánd inclusivity that we thrive for at MoSaIC, one day won't be that unusual anymore on a global scale.
But without being too naïve either. There is so much to be done, still, by everyone, including myself. And, as painful as it is to admit, I do consider myself both a victim ánd a contributor to systemic racism. The latter in the form of internalised racism. An underexposed topic, a silent poison, and therefore way more damaging than we may want to acknowledge sometimes. As a participant of MoSaIC, a project owning its existence by the grace of multiculturalism and equality, I find it utterly necessary to bring it up right here and right now. As I am convinced that many of us, even at MoSaIC, are silently suffering from the burden ánd consequences of internalised racism.
I got heavily reminded of my personal issue with (internalised) racism just last week, when a Belgian radio approached me to talk about one book or movie that has been a personal eye-opener: for me that is the book 'Nations Nègres et Culture' by the visionary Cheikh Anta Diop. I am indebted to this Senegalese writer who, with a lot of resistance yet all by himself, back in the 40's, 50's and '60s already tackled Eurocentric Doctrines and the destructive impact of white supremacy. Check it out for yourself if you can. Or share with whomever who is looking for key works on the topic of e.g. decolonisation and systemic racism.
Reading is one thing, I have some music examples too in addition to the current debates. Perhaps for next time, in the next Instagram-Take-Over,… For now, I'd prefer to end with a friendly invitation, a virtual welcome to our future MoSaIC concerts. Corona or not: dates & info will follow. Stay tuned !"